Steady Stream Of
New Patients
Ready to take your revenue growth to the next level with very little effort on your part? Then you've come to the right place. We take away all the stress of your digital marketing. Our proven New Patient Acquisition System, world-class creative talent, and proprietary technology will take care of everything. Getting new patients and consistently growing your practice month-over-month is Rise MD's specialty. Proven results, guaranteed.
Before working with Neil and Rise, we had one person working on our AdWords account and SEO that we really didn't see any measurable results from. Neil was able to show us exactly how many patients he was bringing us every month, and all the engagement numbers coming from our website and social media. We're now consistently seeing about thirty new patients per month as a result of his work. I couldn't be happier with what they've been able to do for us, and would highly recommend them as an all-in-one solution for any practice."
- Nick Kizy Owner, Sterling Dental Sterling Heights, AB
Neil is a serial entrepreneur, speaker, and digital advertising specialist. He works with fortune 500 companies and private firms alike, specializing in the tech and dental practices, getting award-winning results in some of the most competitive online niches. He focuses on driving consistent traffic to his clients websites and practices, and excels at converting visitors into paying customers.
Brittani is a digital strategist and consultant specializing in dental and elective medical, and high-volume/enterprise SEM account reworks. Turning an organization's accumulated digital marketing waste into optimized opportunity is what she's all about. It's her highest passion, and her track record is unparalleled, achieving a 100% success rate in ROI increase for all SEM clients served over the past eleven years.
Throughout her career Brittani has worn the hats of project manager, web & graphic designer, copywriter, business consultant, development coordinator and more, and she's taken all her combined knowledge to save the PPC world with RISEMD.
Janie's professional career started in dentistry in 1989 when she was hired in her first dental practice as an assistant. It didn't take very long for Janie to understand that her lifelong passion was going to be in dentistry. After many years of training and education, Janie has worked and thrived in just about every job role a dental practice has to offer. She has vast knowledge of being an EFDA in the clinical area along with many years of administrative and office management in practices of all sizes.
In 2001 Janie became a clinical and administrative instructor for a Nationwide consulting company. Since then, she has consulted/trained- in many practices across the country. She instructs in dental practices alongside team members to implement practice systems, teaching how to deliver high- end customer service, improve efficiency and increasing the overall practice revenue cycle.
Director of Business Development
Jordan Rabens
Success comes from standing out, not fitting in. (Okay, I can't take credit for that line, I stole it from Don Draper, but I'm certainly onboard with the sentiment.) That statement is my mantra. As a business development guy, it's my job to differentiate an agency and its offering in what is often a sea of ad agency sameness – and make CMOs feel as if they'd be crazy to hire any other agency.
So while I can (and do) fill the pipeline with qualified leads, I delve much deeper. I work to make an agency (and its clients) stand out. I help them rethink their approach to agency business development, reposition their offering, present themselves in a new light, reduce the stress pitching can put on an organization and bring some order to the chaos of the new business process. I've been doing this for the bulk of my marketing career, and this approach has produced years of new business growth at each stop in my career.
Ready to take your revenue growth to new heights? We'll analyze your practice, find the areas that need to be improved and develop a strategic plan to boost your revenue. Our digital marketing team will show you how much money we can make you conservatively, moderately and aggressively.
RISE MD Digital Dominance Method
Our DONE-FOR-YOU services for the maximum flow of leads, patients, and profitability for your practice.
Learn How To Boost Your Revenue, Get Access To The Latest Health Care Advertising News!
Drive Quality Calls
And Walks-Ins To
Your Practice
Digital Advertising Start with driving traffic to your website however, it's important to understand that all traffic is not created equal. We're going to weed out the tire kickers from the serious buyers right from the get-go. Rise MD will get you in front of the right people at the right time to improve your conversion and generate profitable revenue
Rise MD is a best-in-class angency with decades of combined marketing and management experience. Our team of tech-savvy veterans draws experience from start-ups to fortune 500 companies alike. We have worked with companies like Pfizer, Allergan, Google, Facebook, Nike, Atlantic Records, Sprint, and Comerica, to name a few. Focusing our combined expertise on helping private healthcare practices, we are the premier option for a return on your marketing investment, regardless of your budget or growth goals.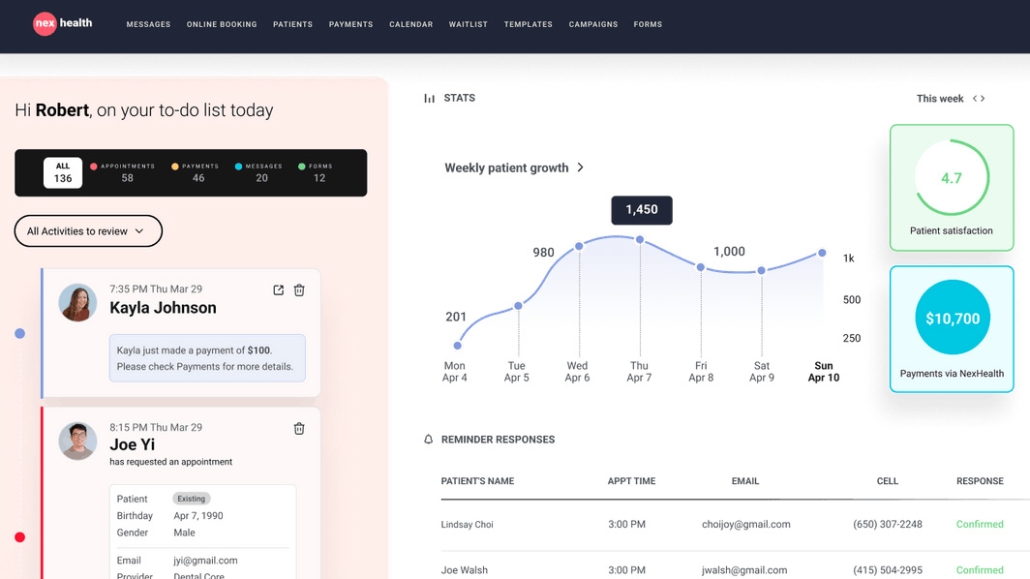 NexHealth, the premier patient experience platform for patients, doctors, and developers, today announced it has closed $125 million in a...