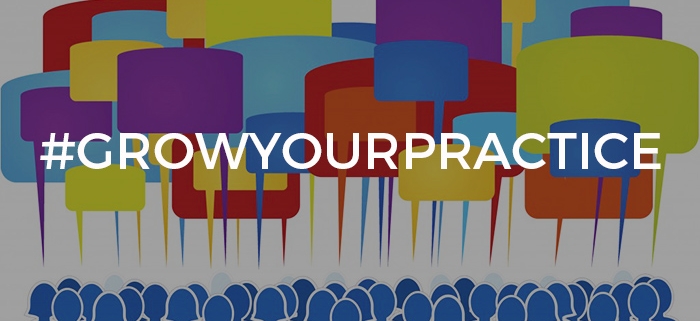 Hashtags are a remarkable online tool
Hastags used to arrange and deliver content based on certain interests and topics. When used as a pro, hashtags can help your practice's social media presence skyrocket, while connecting your content with users most likely to engage with it.
Hashtags are absolutely everywhere – from busses, billboards, TV advertisements, and posters in local businesses, it seems the hashtag is an inescapable characteristic of social media. Just what are hashtags, and how can you use them to grow your practice?
The concept of the hashtag might be puzzling for those who didn't grow up on social media – a hashtag is a word or phrase put in front of a pound sign (#) that is used to categorize and arrange content relating to the same topic or subject. For example, during the last Super Bowl, there was an ocean of online discussion occurring on Facebook, Twitter, and Instagram. Many people included the hashtag #SuperBowl2017 in their posts, meaning that anyone who clicked on that hashtag could then view all of the posts that also included that hashtag, and become part of the discussion! Being able to utilize relevant hashtags is vital to maximizing your reach on social media; follow these guidelines to start hashtagging like an expert:
Keep the Format and Social Media Platform in Mind & Marketing For Medical
Hashtags must follow a specific format on all social media platforms; there must be a pound sign (#) followed by letters and numbers with no spaces, no punctuation and no special characters. For Facebook and Twitter, only two or three hashtags are really necessary, whereas Instagram does not penalize posts for having too many. On Instagram, however, be sure to avoid including so many hashtags that your post looks cluttered. *A great tip for Instagram is to only include one or two hashtags when posting and then to go back and add a comment with the appropriate hashtags. Remember – comments with too many hashtags will not be posted on Instagram; you'll be greeted with a red line of text that reads "Couldn't post, tap to retry."  
Keep Hashtags Relevant to Your Audience
Put yourself in the shoes of potential patients and others in the online dental community; what hashtags would they realistically search for? These might be as simple as your city name (ex. #SanDiego), or more specific topics such as WisdomTeeth, Cavities or TeethWhitening. A good habit to get into is to search for tags on Instagram and Twitter, and see which ones appear at the top of the list; using these hashtags will give your posts the largest audience possible! *For Instagram, the dental hashtags that constantly appear as the most popular are dental, dentistry, dentist and dental assistant.
Contribute to Trending Topics When You Can
Extremely popular (or "trending") hashtags will appear on the front pages of Twitter and Facebook. Look into these trending topics and see if they relate to your practice; if so, contribute to the conversation! Adding a trending hashtag to a post will heavily inflate that post's reach, and connect you with far more users. *A good rule of thumb, however, is to always avoid political and controversial subjects (there may be some exceptions, but it's best to play it safe and avoid these topics altogether).
Create a Hashtag for Your Practice
A special hashtag for your practice can add a lot of character and pizazz to your posts, acting almost as a slogan. Brainstorm a hashtag for your practice that either includes or is very similar to the name of your practice (ex. #SunshineDentalDDS) and include this hashtag in your social media posts, emails, and newsletters. Is it also a good idea to create hashtags for certain events or promotions going on at your practice – doing a giveaway? Create a special hashtag for your giveaway posts! *Also, almost all continuing education events your team will attend incorporates a special hashtag for attendees to use. Including event hashtags in your posts will help connect you with other dental professionals online!
Maximize Your Reach with Hashtags
It doesn't matter which social media platform we're talking about here; using hashtags often and intelligently will ultimately maximize the reach of your social media content. Well-utilized hashtags not only connect you with more users but also boost your online image as a savvy, up-to-date practice! If you'd like Rise MD to perform an audit of your social media content, and explore how we can potentially make it better, get in touch with us at Rise MD.
https://risemd.com/wp-content/uploads/2017/08/ThinkstockPhotos-137330132-1024x585-1.jpg
394
700
admin
https://risemd.com/wp-content/uploads/2022/12/RiseMDWhite-300x79-1.png
admin
2017-08-14 19:13:46
2022-02-04 23:06:28
HASHTAGS – GROW YOUR ONLINE PRESENCE WITH HASHTAGS