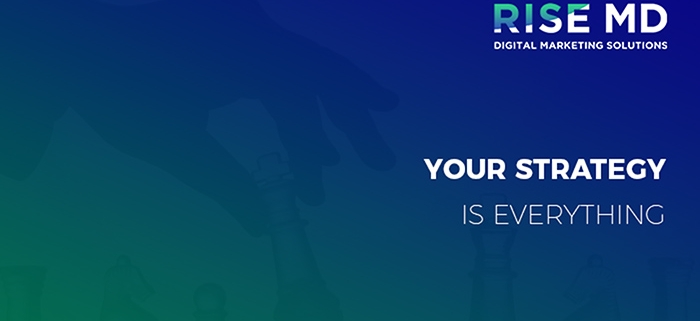 Medical marketing services are quickly becoming the most well-proven method to growing any medical practice; in a 2012 Google study, it was found that 88% of online users look to search engines to find healthcare providers, which explains why so many medical practitioners are quickly realizing the benefits of getting found online quickly, and turning those online users into new patients. RiseMD offers the medical marketing services that healthcare providers need and want in order to take their practice to the next level, including leading Web Designing and Development services, Review and Reputation Management, Search Engine Optimization, and Google Adwords/PPC management that puts your practice in front of the right online users at the right time. Whether you're looking for Dermatology Marketing, Audiology Marketing, Dental Marketing or Podiatry Marketing, RiseMD can offer the online strategy you've been searching for that will allow your practice to soar above local competition.
RiseMD offers medical marketing for a variety of practice types:
Dermatology Marketing
Podiatry Marketing
Audiology Marketing
Dental Marketing
Orthodontic Marketing
The Difference A Dermatology Marketing Strategy Can Make 
When it comes to the field of dermatology, your dermatology marketing strategy is everything; a smart digital marketing strategy, whether large or small in scale, helps to build your patient portfolio, increases awareness of your practice in the marketplace, and greatly increases your ROI from marketing and advertisement expenditures. The facts are in, and traditional advertising methods such as word-of-mouth, radio, billboards, newspaper slots and mailer agencies simply don't deliver a large enough ROI to be practical in the longterm growth of your practice. In all honesty, these methods are prehistoric when compared to the advantages of medical digital marketing.
What the Industry Would Look Like if Podiatry Marketing Didn't Exist
Marketing a podiatry practice can be as simple or complex as you want it to be; but when only focussing on the true heart of medical marketing in the modern realm (PPC advertising, website optimization, review and referral management, and online reputation management), gaining the online visibility and patient base you need to grow becomes effortless.
If podiatrists don't market their services online, podiatry practitioners:
are unable to refine their marketing strategies, remaining unaware of what works and what doesn't. Without an online marketing strategy put together by individuals with online marketing intelligence and know-how, honing in on an effective, holistic marketing strategy becomes impossible.
are unable to scale their practice. Think about it – if you wanted to start growing your practice today, where would you start? Do you hire more doctors and other staff? Do you look into purchasing another location? When you rely on a digital marketing strategy to grow your practice, obtaining a larger patient base is as simple as increasing the amount you spend on advertising. And, when you rely on a digital marketing strategy that's managed by the right agency, you can have full peace of mind knowing that every dollar spent will offer a hearty return on your investment.
Audiology marketing
There are a few realities to marketing an audiology practice that audiology practitioners should keep in mind when looking to grow their practice:
Social media engagement is only one part of an effective, holistic audiology marketing strategy.
Public relations activities are a central aspect of medical marketing. Open houses, health fairs, civic group presentations, Better Hearing and Speech Month programs, and lunch-and-learn seminars are public relations events that heighten the visibility of your practice.
If an audiologist wishes to up their audiology marketing strategy, the heart of your strategy should be focussed on achieving a healthy return on the investment your making into advertising your practice; the most widely used methods of audiology marketing have always been newspaper, TV, radio and social media ads. While these methods were sure-fire ways of growing a medical practice ten or twenty years ago, consumers have shifted their gaze to the digital world, and your practice needs to be there waiting for them, standing front-and-center amongst your local competition.
Creating Your Audiology Marketing Engine
At RiseMD, we've combined all of our digital knowledge and skills to offer proven medical web development, audiology SEO and digital marketing business development functions to the hearing healthcare market. We drive the online reputation and presence, and thus to overall revenue streams, of audiology practices by utilizing:
Our intimate healthcare industry knowledge for all medical industries
A thorough understanding of patient searches & keyword research
Our experience with large-scale, expensive website designs and builds
Our long-term SEO results & blogging experience.
The Steps to Better Digital Marketing
Establishing and managing a smart and effective digital marketing strategy can seem like a large feat to overcome; however, getting started isn't as difficult as many medical practitioners may think! Simply take some time (which as a medical practitioner can be hard to find) and ask yourself these questions:
What's your Customer Profile – Who do you want to target?
What are your goals – How many new patients would you like to acquire?
Test your current marketing strategies – What's working and what isn't?
How involved is my practice in my community?
Do I have a large online and in-person portfolio of testimonials and reviews?
Whether you've been trying to find the right digital marketing strategy for years or are just now getting started, RiseMD has to experience and know-how to get your practice from point A to point B, from point B to point C, and then take you above and beyond all of your practice goals. Visit www.risemd.com to learn about all of our industry-leading medical digital marketing services, and get ready to #RiseAbove, with RiseMD!
https://risemd.com/wp-content/uploads/2017/12/STRATEGYiseverything-2.jpg
394
700
admin
https://risemd.com/wp-content/uploads/2022/12/RiseMDWhite-300x79-1.png
admin
2017-12-31 21:38:09
2022-02-04 23:08:45
Marketing for Medical – Why Your Strategy Is Everything